Email: info@hogeroffshore.com
Address:

Office No. 703, Business Bay, Plot No.-51, Sector-1, Nerul, Navi Mumbai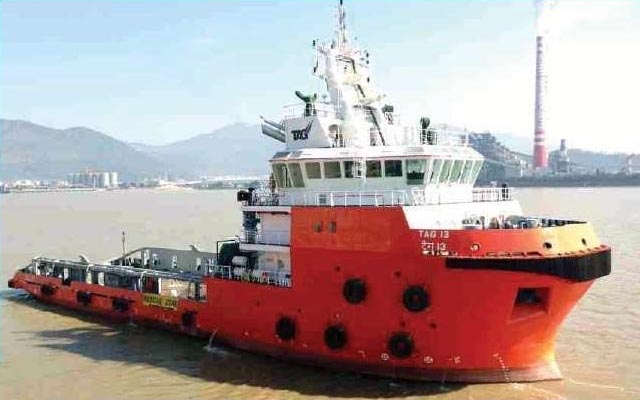 85T BP AHTSV, DP 2, FiFi 1
2 x 3400 BHP (3800 BHP) AHTSV
PRINCIPAL PARTICULARS

Length Overall

65.00 m

Length Waterline

58.50 m

Breadth Moulded

16.00 m

Depth Moulded

6.20 m

Operating Draft (max)

5.00 m

Built

2013 China

GRT / NRT

2267 / 680

Class

ABS/IRS Dual Class

Notation

SUL, Anchor Handling Tug, "Offshore Support Vessel"  IY, AGNI 1 (2400 m3/h), DP-2

Flag (Port Of Registry)

India, (Mumbai)

Call Sign / Official Number

AWFH / 4137

IMO

9680827

DP

DP – 2
PERFORMANCE

Maximum Speed

13.8 Knots@100% MCR

Economical Speed

12.8 Knots@85% MCR

Type Of Fuel

Marine Gas Oil

Fuel Consumption

21 m3/24 hours (max)

16 m3 /24 hours (econ)

Bollard Pull

85 Tons (Max)
CARGO CAPACITIES

Deadweight

1700 Ton

Deck Cargo

600 mt

Deck Strength

7 Ton/m2 uniform loading

Clear Deck Area

435 m2

Fuel Oil

580 m3

Fresh Water

440 m3

Ballast / Drill Water

700 m3

Liquid Mud / Brine / R.O.

460 m3

Cement Tank

150 m3

Freezer / Chiller

10m3 / 10 m3

Foam / Detergent

21 m3 / 21 m3

Rig Chain Locker

NIL

Brine

Same as liquid mud *
PUMPS

Fuel Oil

1 x 150 m3/hr @70 m head

Fresh Water

1 x 100 m3/hr @ 70 m head

SWB/Drill Water

1 x 100 m3/hr @ 70 m head

Liquid Mud / Brine / R.O.

2 x 100 m3/hr @ 70 m head#

Bulk Cement Compressor

2 x 13 m3/min @80 psi

Base Oil Pump

Same as liquid mud #

Brine Pump

Same as liquid mud #
PROPULSION SYSTEM

Main Engines

2 x 3300 PS (Niigata 8L28H) @750RPM 

(4917 KW)

Main Generators

3 x 450kw diesel driven, 415V / 3 Ph / 50 Hz

Shaft Alternator

2 x 1000 kw

Emergency Generator

1 x 99 kw, (Cummins)

Bow Thruster

2 x 12 Ton Thruster, approx 600 kw, CPP (Kawasaki Wuhan)

Stern Thruster

1 x 8 Ton Thruster (Kawasaki Wuhan)

Steering Gear

RIQ Kings Steering, 2 x 6 TM, Model: KS95U24-6-45*-HDP2

Propulsion

CPP, Twin Screw, Berg,

Rudders

Flap Rudder, Wuxi dongzhou, China
DECK EQUIPMENT

Anchor Windlass

2 x 10T @9 m/min, electro hydraulic

Anchor & Chain

2 x 1845 kg HHP Stockless / 2 x 440m L x 38mm Dia, Grade:U3 Chain

Capstan

2 x 10T @15 m/min, electro hydraulic

Tugger Winch

2 x 10T @15 m/min,el.hyd.Drum capacity 250 m x 22 mm Dia

Deck Crane

1 x 2 Ton @15 m (telescopic) China make

Shark Jaw

1 x Hydraulic 250 SWL

Towing Pin

2 x Hydraulic 250 SWL

Towing Bollard

Stern Roller

4.40m (L) x 1.70m (dia); SWL:250mt

Towing / AH Winch

Electro Hydraulic, double drum, water fall

Upper Drum Cap (Tow)

60mm dia. X 1200m

Line Pull

150 Ton @6m/min (1

st

Layer)

Brake Holding Capacity

250 Ton (Static Brake)

Srorage Reel

1 x 6 Ton @20m/min
(Auto Spooling capable of being controlled locally or remote from wheelhouse)
ACCOMODATION

Berths

50

8 x 1 berth cabins = 8 berths

3 x 2 berth cabins = 6 berths

9 x 4 berth cabins = 36 berths

Hospital

1 x 1 berth cabin

All cabins fully air-conditioned c/w attached washroom

Vessel also fitted with PA Talkback System and Self Powered Telephone
RADIO & NAVIGATION EQUIPMENTS

GMDSS Area

A1 + A2 + A3, consisting of

SSB Furuno

FS-2575T

Inmarsat C (LRIT configured)

1 x Furuno Felcom – 18. .S.No:3598-1552

Inmarsat C (SSAS configured)

1 x Furuno Felcom – 18. .S.No: 3598-2682

VHF Radio

2 x Furuno FM-8800S

Radar

2 x Furuno FAR2117

Navtex Receiver

1 x Furuno NX-700B

Echosounder

1 x Furuno FE-700

PA & Telephone System

Jotron Phontech

AIS

1 X Furuno FA-150

Doppler Speed Log

1 x Furuno DS-80

Weather Fax Receiver

1 x Furuno FAX-408

Auto Pilot

1 x Anschutz PilotStar D

Dynamic Positioning

DP2 System, Kongsberg

Gyro Compass

3 x Anschutz Standard 22

GPS + DGPS

1 x Furuno GP-150

EPIRB

1 x McMurdo E5

SART

2 x McMurdo S2

Magnetic Compass

1 x Liley-Gillie MK2000
FIRE-FIGHTING EQUIPMENT & ANTI-POLLUTION EQUIPMENT EXTERNAL

FiFi System

Class 1 with water curtain all round

Fi-Fi Pump

2 x 1650 m3/hr @ 140m head

Monitors

Driven by Fron PTO Main Engine

Water / foam

1 x Fire Monitor

Water

1 x Fire Monitor

Oil Dispersant System

2 x Cluster nozzles or overhand boom

Fire Detection System

Tyco Safety Products UK.
INTERNAL

Emergency Fire Pump

1 x 45 m3/hr x 60m head

Fire/Bilge/Ballast/GS Pump

2 x 100 m3/h x 70 m head

CO2 System in engine Room

CSSC Jiujiang Zhongchuan

Fire Detection & Alarm in living Spaces and Engine Room

Tyco Safety Products UK,
MISCELLANEOUS

Liferafts

6 x 25, SOLAS standard, China Make

Rescue boat

1 x 6 c/w inboard diesel engine

Oily Water Seperator

1 x 1.0 m3/hr, Ocean Clean/Boss

Water Maker

1 x 10 T/day, Sea recovery/ Peter Taboada

Sewage Treatment IPlant

1 x 50 men/day, Taixing / Taiko
The Vessel Specifications are subject to modifications and may change without prior notice.
* Vessel Complies with UKOOA requirement and fitted with FRC of 9 persons.
* Vessel is SPS Compliant
HOGER OFFSHORE AND MARINE PVT. LTD.
Office No. 703, Business Bay,
Sector-1, Nerul, Navi Mumbai,
Maharashtra, India – 400 706.
Email : info@hogeroffshore.com
Tel/Fax: +91-22-27700777 / 888

Hoger Offshore and Marine is a global leader in ship management and marine services, renowned for our commitment to environmental preservation and exceptional value.
Copyright 2023 by hogeroffshore All Right Reserved.